Mobile Site Boosted Sales By 50%
Mobile Refresh
The Challenge Vivamus ipsum velit, ullamcorper quis nibh non, molestie tempus sapien. Mauris ultrices, felis ut eleifend auctor
Rebuilt From the Inside Out
The Challenge Vivamus ipsum velit, ullamcorper quis nibh non, molestie tempus sapien. Mauris ultrices, felis ut eleifend auctor
Extensive Demographic Studies
The Challenge Vivamus ipsum velit, ullamcorper quis nibh non, molestie tempus sapien. Mauris ultrices, felis ut eleifend auctor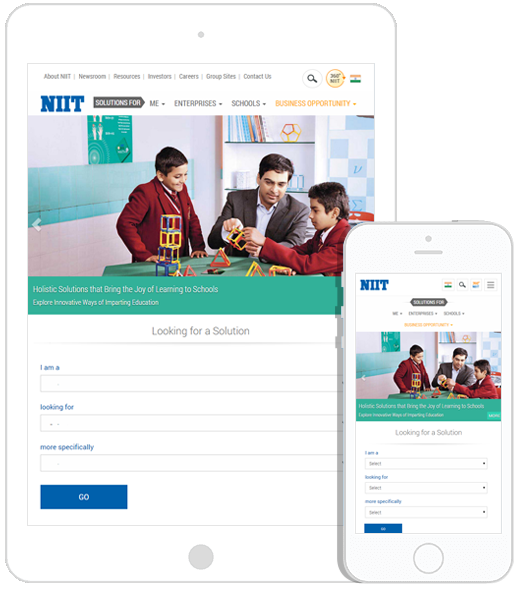 The Challenge
NIIT, the global IT Learning Solutions Corporation, is known for its pioneering work in the field of IT education and training. NIIT's vast education delivery network spread over 30 countries in the Americas, Europe, Asia, Middle East, Africa and Australia/Oceania, blends classroom and on-line learning.
For different countries and businesses in these countries, the business managers had different sites which were built over the years, as and when these businesses were created and grew. NIIT required a partner who could help NIIT in helping them come up with a overall Organisation-wide Strategy to consolidate all these businesses into ONE NIIT, while ensuring that the customers of these geographies and businesses get the right information in the most relevant manner. It was also needed that the NIIT business customers be presented with offerings which were related to them to enable cross-selling.
NIIT needed a Content Management System which can manage dynamic content through an intuitive user interface along with version control, workflow design and management as well as mass storage capability.
Since NIIT has businesses in over 34 countries (and counting!), it was required that targetted content be presented to audiences in different geographies based on different sets of rules, to automatically facilitate intuitive navigation through the website while tailoring the navigation to the individual user and to deliver comprehensive site content management and structural facilities.
The business leads from different geographies for different services and solution offerings are integrated with their existing CRMs: Eloqua, SalesForce, Microsoft CRM and customised CRM.
NIIT being a global organization with a highly valuable brand identity, it was imperative that the portal complied with the web 2.0 standards and conforms to the expected presentation and navigation formats.
A comprehensive search engine was also required to search the content based on keyword inputs, phrases, full texts, documents, images and presentations.
The site was required to be optimized for external search engines. When a person searches the internet using search engines such as Google and Bing, based on the content being searched for, context sensitive results should be ranked in line with NIIT's leadership position.
Other features like Reporting, Online integration, Visitor feedback, Communication & Collaboration for registered users, Events, Discussion Forums etc. are also required.
The Solution
The site has been developed entirely on the MOSS (Microsoft Office SharePoint Server) 2007 platform.
Some of the Key Feature includes:
Microsoft VirtualEarth
CRMs
Salesforce
Eloqua
In-house CRM
MS Exchange 2007
Custom .NET Applications
The website is device-sensitive to delivers the appropriate Mobile Content
Automatic country detection
Country specific content
Performance & Optimization
Custom Http handler was written to reduce data transfer
SharePoint's built-in caching features were completely exploited to achieve maximum performance
Technology architecture of the solution
Application Architecture covered the interconnection of various components – Portal, Web Services, LDAP Support, Plug-Ins etc.
Security architecture of the solution
Application Security
User Authentication
Roles / User Management
Data security etc.
Mobile Sales

80%

Website Traffic

50%

Conversion Rate

75%

Email Subscribers

60%
The Results Were Amazing
Thanks to Convergent Technologies, NIIT.com was able to bring in 6 times the number of potential customers on to the site with the consolidation of all business sites into ONE NIIT.com site.
Live Demo