Microsoft Sharepoint 2013: Business Collaboration Platform For Your Enterprise
Convergent Technologies has done over 50 implementations in Sharepoint platform in the areas of Enterprise Business Workflows, Large Intranets, Public Portals, Enterprise Content Search and Integration with Existing Legacy Systems.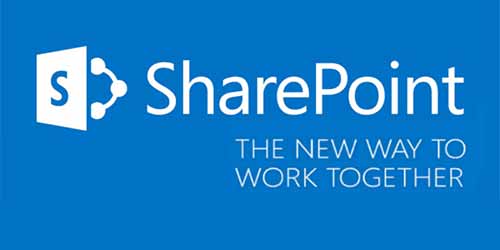 Over the years, Convergent Technologies has invested heavily on Microsoft SharePoint architects, technologists and developers, who have worked on multiple big projects and have built up a body of knowledge based on many years of combined experience and hard-earned expertise. We are extremely skillful and competent at architecting and building custom solutions on top of Sharepoint 2013, 2010, 2007 and 2003 frameworks.
Success Stories
Volvo Eicher Intranet Portal (Enterprise Content Management, Business Workflows and Integration using BizTalk with SAP HR and SAP Finance)
www.NIIT.com (Fully responsive Corporate Portal for 34 countries, integrated with multiple CRMs)
www.indiahiv.org (Corporate Portal for Population Council of India, Intranet for Stakeholders)
MakeMyTrip Intranet and Integration with Microsoft Exchange using Microsoft BizTalk Server
Indigo Airlines (Safety and Incident Management System, ESS Workflows)
www.niitnguru.com (Corporate Portal for School Learning System)
MyNDTV Intranet (Enterprise Content Management, Enterprise Search using MOSS 2007)
BHEL Intranet (Business Workflows using Form Services and Enterprise Content Management)
Border Security Force Pay Slips (integration with COBOL)
Genpact Enterprise Search
Sharepoint Services
Some of our Custom Solution Implementations using Sharepoint include:
Enterprise Business Intelligence Solutions
Enterprise Line of Business Data Integration Solutions
Windows Workflow Foundation and Sharepoint 2013 based Custom Workflow Solutions
Share point 2013 Planning, Installation, Configuration and Customization
Enterprise Intranet, Extranet Portal Design, Configuration and Customization
Enterprise Intranet Migration and Transformation to Sharepoint 2013
Public Internet Site Design, Branding and Customization
Enterprise Custom SOA Application Development
Enterprise Collaboration Solutions
Enterprise Document Management Solutions
Enterprise Content Management Solutions
Enterprise Record Management Solutions
Enterprise Search Solutions
Sharepoint 2013 Features and Benefits
Microsoft SharePoint 2013 enables organizations to connect and empower people through an integrated set of rich features. SharePoint 2013 facilitates business collaboration in its broadest sense and helps colleagues, partners, and customers to work together in new and effective ways.
Convergent Technologies helps customers and partners in adopting Sharepoint 2013 for their enterprise either in form of new implementation or upgrading sites and applications from MOSS 2007 or Sharepoint 2010 to Sharepoint 2013.
We help customers and partners integrate Sharepoint Applications and Sites with backend CRMs, ERPs and Business Applications.
Sites
SharePoint Sites delivers a single infrastructure to provide portal and collaboration capabilities across Intranet, Extranet, and Internet sites to bring users together to share Knowledge across organizations.
Collaboration Capabilities
SharePoint 2010 provides portal and collaboration capabilities across Intranet, Extranet, and Internet sites. SharePoint 2010 brings users together to share information, data, and expertise across organizations. It offers great usability, personalized experiences, and a single infrastructure that saves valuable time and dollars.
Simple User Interface
Great usability is the key to broad adoption. A new Fluent UI, an enhanced mobile experience, cross-browser support, and built-in accessibility standards make it easy and rewarding for anyone to use SharePoint 2010.
Content Personalisation
Features such as My Sites, user tagging, content targeting, and multilingual support allow users to create individualized experiences. People can find, use, and share information and contacts easily and naturally.
Reduce Costs and Complexity
SharePoint 2013 saves organizations time and money with a unified infrastructure that is manageable and scalable. IT professionals can centrally manage and monitor sites, integrate applications, and reuse popular solutions via web parts and templates.
Communities
SharePoint Communities empowers people to work together in ways that are most effective for them. Allow people to collaborate in groups, share knowledge and ideas, connect with colleagues, and find information and experts easily.
SharePoint Communities: Work Together Effectively
SharePoint 2013 provides a comprehensive, flexible platform that empowers people to work together in ways that are most effective for them. Allow your people to collaborate in groups, share knowledge and ideas, connect with colleagues, and find information and experts naturally.
Work Together the Way You Want
The global workforce of the twenty-first century is more diverse than ever. Connect and engage all of your employees with a flexible collaboration platform and a diverse set of tools that range from Wikis to Workflows to Workspaces—allowing people to work together the way they want.
Rely on a Secure Collaboration Platform
Let your IT staff rely on an enterprise-ready collaboration platform that is secure and easy to manage and will support your organization's growing needs. SharePoint 2013 makes social safe with granular security and privacy controls, centralized management and policy setting, and robust reporting and analysis.
Extend the Value of Your Community Solutions
The SharePoint platform seamlessly integrates with the rest of the Microsoft Business Productivity infrastructure, including the Office applications, Exchange Server, Office Communications Server, SQL Server, and Dynamics. In addition, SharePoint provides Business Connectivity Services and adheres to open standards and protocols, making it easy to integrate third-party applications.
Search
SharePoint Search give users the ability to find the content, information, and people they need by combining an integrated, easy-to-manage platform with best-of-breed enterprise search technology.
SharePoint Enterprise Search: Find People and Information Anywhere
SharePoint Search can help the members of your organization find the content, information, and people they need by combining an integrated, easy-to-manage platform with best-of-breed enterprise search technology. Now more than ever, all your employees, from sales associates to developers, can do more with search to get their jobs done.
Go Beyond the Search Box
SharePoint moves beyond the traditional "10 blue links" and introduces a visual and interactive experience, allowing users to find, explore, and connect to information and people.
Eliminate Compromise Between Manageability and Capability
SharePoint offers an integrated solution that can tackle the most challenging enterprise search requirements while maintaining the out-of-box simplicity and consistency of a durable and secure platform.
Do More with Search
SharePoint is a powerful platform for building custom search solutions and applications using common out-of-box tools.
Insights
SharePoint Insights enables users to access and interact with information across unstructured and structured data sources. Empower users to discover the right people and expertise to make better and more agile business decisions.
SharePoint Insights: Make Informed Business Decisions
SharePoint Insights enables users to find the information they need across unstructured assets (blogs, wikis, presentations, documents) and structured assets (reports, spreadsheets, analytical systems). Empower users to discover the right people and expertise to make better informed and more agile business decisions.
Empower Decision Makers
Empower users to collaborate better and make more agile business decisions by accessing the information they need, when they need it. With powerful self-service capabilities integrated into familiar tools, users can create and share the right information and drive the business forward by providing timely responses and taking advantage of opportunities as they arise.
Improve Organizational Effectiveness
Manage, drive, and define organizational success by aligning to key metrics and strategy through context-driven dashboards. Measure critical success factors and empower everyone to create and analyze the information necessary to stay informed and move the business forward. Enable accountability and transparency across the company and remove barriers to productivity.
Enable IT Efficiency
Use a complete, integrated business collaboration platform that can empower users to discover, analyze, and share the right information across unstructured and structured assets. With a platform built on standards, IT can address business requirements by putting information in the hands of users and focusing on developing, maintaining, and securing systems.
Content
SharePoint Content enables all users to participate in a governed, compliant content management lifecycle. SharePoint Content makes it possible to expertly balance user experience with policy and process.
SharePoint 2013  Content: Manage Content Lifecycle From Creation to Disposition
With Enterprise Content Management (ECM) from Microsoft, your people can participate in the content management lifecycle, helping to govern information and promote compliance. SharePoint Content expertly balances user experience with policy and process, ensuring that everyone participates and all content is managed.
Increase Productivity and Information Value
With SharePoint 2013, content management is simple and intuitive, allowing employees to focus on higher value tasks. In addition, SharePoint 2013 provides co-authoring, metadata driven navigation, search refiners, and a rich social overlay to help people turn information into action.
Drive Compliance and Reduce Risk
SharePoint 2013 provides a single platform for managing content across the enterprise. By consistently applying metadata, retention schedules, record declarations, and legal holds, SharePoint 2013 can help to ensure that information is managed in accordance with policy and regulation. This can reduce the risk of incorrectly deleting relevant information or retaining information beyond its useful life.
Consolidate Systems and Simplify Integration
Reducing the need to purchase multiple ECM solutions, SharePoint 2013 delivers the management of documents, records, Web content, rich media, and document output in an integrated, extensible platform. In addition, SharePoint 2013 is built on an open platform that supports interoperability standards like XML, SOAP, RSS, REST, WebDAV, and WSRP, which significantly reduces the cost of maintaining a heterogeneous environment.
Composites
SharePoint Composites empowers users to rapidly respond to business needs by creating their own no-code solutions on-premises or in the cloud, through a rich set of building blocks, tools, and self-service capabilities.
SharePoint Composites: Take Action with Managed Solutions
SharePoint Composites empowers business users to rapidly respond to a broad array of business needs with collaborative solutions of their own, without code, both on-premises or in the cloud, through a rich set of building blocks, tools, and self-service capabilities, while providing IT professionals with manageability and operational insights to ensure a stable platform and control over end-user solutions.
Rapidly Create No-Code Collaborative Solutions
Empower business users to rapidly and easily address a broad array of business needs using the browser, or to share their Office Access databases and Office Visio diagrams with others, while allowing advanced users to customize SharePoint with no-code tools in SharePoint Designer and Office InfoPath.
Unlock the Value of Enterprise Data
Allow your organization to interact with enterprise data directly within the SharePoint and Office experience, in both read and write modes. Users are able to work with enterprise data as easily as with SharePoint data, either offline or connected, or directly in the rich experience of Microsoft Office.
Maintain Control over End User Solutions
IT professionals can manage user solutions and define resource throttling controls on resource consumption on your server infrastructure, letting SharePoint take care of ensuring that solutions stay within your predefined limits. This allows them to maintain operational insight and a stable platform, whether online or on-premises.
Manage Content And Processes
Simplify compliance efforts and keep business information more secure through a comprehensive set of tools to manage and control electronic content. Streamline the everyday business processes that are a drain on organizational productivity by using electronic forms and out-of-the-box workflow processes that users can initiate, track, and participate in through familiar Microsoft Office applications, e-mail, or Web browsers.
Control documents through detailed, extensible policy management
Define customized document management policies to control access rights at a per-item level, specify retention period and expiration actions, and track content through document-auditing settings. Policy integration with familiar client applications makes compliance transparent and easy for employees. Integration with Information Rights Management helps ensure that proprietary and confidential information is better protected even if it is not connected to a server.
Centrally store, manage, and access documents across the enterprise
Organizations can store and organize all business documents and content in one central location, and users have a consistent mechanism to navigate and find relevant information. Default repository settings can be modified to add workflow, define retention policies, and add new templates and content types.
Simplify Web content management
Provide easy-to-use functionality to create, approve, and publish Web content. Master Pages and Page Layouts provide reusable templates for a consistent look and feel. New functionality enables enterprises to publish content from one area to another (for example, from a collaborative site to a portal), or to cost-effectively manage multilingual delivery of content on multiple intranet, extranet, and Internet sites.
Extend business processes across the organization
Forms Services–driven solutions make it possible to more securely and accurately collect information both inside and outside the organization without coding any custom applications. This information can then be integrated easily into line-of-business systems, stored in document libraries, used to start workflow processes, or submitted to Web services, thus avoiding duplicate effort and costly errors resulting from manual data entry.
Streamline everyday business activities
Take advantage of workflows to automate and gain more visibility into common business activities such as document review and approval, issue tracking, and signature collection. Integration with familiar Microsoft Office client applications, e-mail, and Web browsers simplifies the user experience. Organizations can easily modify the out-of-the-box processes or define their own processes using familiar Microsoft tools such as Microsoft Office SharePoint Designer or Microsoft Visual Studio development system.
Improve Business Insight
Effectively monitor business drivers, empower better informed decisions throughout the organization, and proactively respond to important business events.
Present business-critical information in one central location
Create live, interactive business intelligence (BI) portals that assemble and display business information from disparate sources by using integrated BI capabilities such as dashboards, Web Parts, key performance indicators (KPIs), and business data connectivity technologies. Centralized Report Center sites give users a single place to find the latest spreadsheets, reports, or KPIs.
Quickly connect people with information
Enterprise Search in Office SharePoint Server 2013 incorporates people and business data along with documents and Web pages to provide more comprehensive results. The Search Center provides a single integrated location for employees to find content, processes, people, and business data relevant to their specific needs. This enables people and organizations to make decisions based on the latest information and facts more quickly.
Share business data broadly while helping to protect sensitive information
Excel Services running on Office SharePoint Server 2013 provides access to data and analytics in real time, interactive Microsoft Office Excel spreadsheets from a Web browser. Use these spreadsheets to maintain and efficiently share one centralized and up-to-date version while helping to protect any sensitive or proprietary information embedded in documents (such as financial models).
Take advantage of your unstructured business networks to drive better decisions
Employees can use new knowledge management tools to get the most from their powerful unstructured business networks, both inside and outside their organizations, thereby connecting with people more quickly and efficiently. By exploring these undocumented business relationships and finding subject-matter experts, individuals are able to make better decisions more quickly.
Unlock business data
The Business Data Catalog enables structured data from line-of-business applications, such as SAP and Siebel systems, to be integrated into Office SharePoint Server 2013 through Web Parts, lists, people profiles, search, or programmatically. Centrally managed connections to back-end systems can be defined once and then reused by end-users to access back-end data without writing any code — easily making business data part of portal content. The Business Data Catalog also provides the ability for Enterprise Search to integrate back-end business data into the search experience, without having to write any protocol handlers, iFilters, or custom code.