The Challenge
Samsung Electronics is today a leading provider of Consumer Electronics, IT and Telecom products in the Indian market. Samsung India is a market leader in product categories like LED TVs, LCD TVs, Slim TVs and Side by Side Refrigerators. While it is the second largest mobile handset brand in India, it leads in the smart phone segment in India.
Samsung was looking for a Smart Partner Portal for it's 1,00,000+ Partners spread across India to get all the information they need about the Samsung Consumer Electronics through a single window, so be it sales information, schemes announcements, special channel announcement, model specifications and technology. Samsung wanted Partners to get access to all Samsung advertisement and marketing material and latest Training material at Samsung.
The Solution
Convergent Technologies created a Smart Partner Portal for Samsung to reach out to it's partner the Smarter Way. The Samsung Smart Partner Portal built using Convergent Technologies SmoothXRM Platform. It helps 1,00,000+ Retailers to access information related to Products, Marketing, Media, Schemes and Incentives, Price Lists, Training, and Announcements. The system is integrated with backend Dealer and ERP systems.
Smart Partner Portal
Product Center
Up-to-date information on all the Samsung products placed in each category.  The information must include images and videos for all the models. Easy comparison and search of products.
Marketing Center
Repository for the marketing content such as TVCs, Print Ads, leaflets etc.
Media Room
Contains the press releases and the news updates from Samsung
Channel Corner
Interface to connect directly with all the Samsung dealers. Includes scheme details, payout information, price lists, special announcements and reports. Custom mailers are sent to the dealers containing information regarding to schemes, announcements, product launches, price updates etc.
Training Center
Repository of training material and questionnaire for the dealers.
Search
All the content within the portal is searchable, be it Product, Marketing, Media, Channel or Training related information
Integration
Integration with a range of internal Dealer and ERP systems.
Content Management
Content management system helps in addition, deletion and editing of the content in the portal.
Role Based Access
Portal supports role based user access along with logging of all user activities.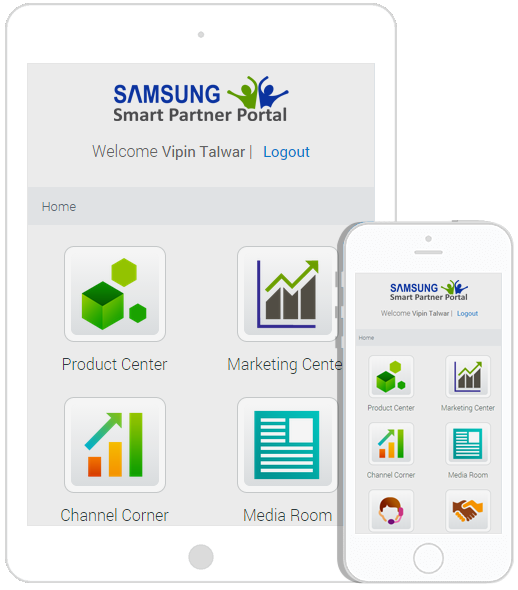 Improvement in Communication